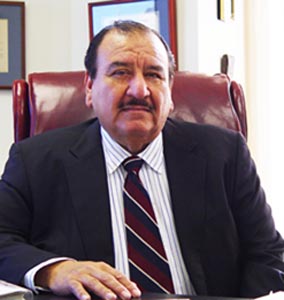 Raul Aguilar started his career as an Analog Electronics Design Engineer and worked on many US Government military avionics systems for a period of ten years. Five years of Law School at the University of San Francisco culminated in admission to the California State Bar and Registration as a Patent Attorney.
Prior to entering into the private practice of law in 1980, Mr. Aguilar served as general counsel to the California Insurance Commissioner for almost ten years, attaining the position of Senior Counsel. In that capacity, Mr. Aguilar was responsible in part for insurance policy review and approval, rendering legal opinions on coverage, validity of claims, and interpretation of insurance statutory and administrative law for the legal, investigation, and consumer affairs divisions of the California Department of Insurance
He opened his first office and was licensed by the California State Bar to act as a professional Law Corporation on August 8, 1988. All of the attorneys and staff of the Firm have worked and trained under the leadership of Mr. Aguilar. The attorneys and staff of the Aguilar Law Offices specialize in insurance law, specifically insurance regulatory law. The firm has successfully secured the formation and/admission of Foreign insurance companies to California and facilitated negotiation of Excess and Surplus Line insurance business directly with insurers and/or through Surplus Line Brokers.
Over the past 18 years Mr. Aguilar has worked with and trained the Firm's lawyers to be advisors to the insurance industry, corporate and litigation counsel, and transactional litigation specialists. The firm has handled a number of complex litigation matters, including the largest plaintiff's case filed in California, involving over 700 doctors, where the firm represented over 200 doctor defendants.
Mr. Aguilar has developed proprietary techniques for handling and resolving issues dealing with insurance regulatory law, complex insurance litigation, life, property and casualty, home warranty, surety securities permits, Insurance Company Certificate of Authority applications, Solicitation Permit Applications, excess and surplus line qualification, reinsurance treaty negotiation, and liquidation and conservation litigation.
Mr. Aguilar has worked with his staff attorneys who have become expert in providing legal advice and hands on assistance in individual and corporate producer licensing, termination and employment agreements, purchasing groups, risk retention groups, and the formation and qualification of insurance companies. Mr. Aguilar is an Administrative law specialists and has successfully defended Broker-Agents before administrative tribunals.